Welcome to THE Central Ohio Chapter!
The Central Ohio Chapter encompasses the Columbus Metro area
and surrounding suburbs.
June 1, 2020
June 15 - Virtual Meeting - Giving Every Child the Best Chance to Learn in Uncertain Times
Imagine that you are the Senior Class arriving at school on Friday, March 13 dressed for your senior breakfast when you hear the breakfast is canceled.
And worse, although you do not know it, you will also miss your winter sport's banquet, your spring athletic season, your music solo, starring in the school play, a trip to Cedar Point with your AP science class, your Senior Prom, senior skip day, and your graduation.
How does a teacher embrace and support students going through such a dramatic and unforeseen moment in history while still focusing on the lessons?
Our speaker is Dr. Antoina Mulvihill who teaches English at Beechcroft High School in Columbus. According to a 2012 Columbus Dispatch article, "she is too humble to admit that she has become the kind of teacher whom every kid wishes he had, the kind who makes you fall in love with learning."
Given an honorary doctorate in humane letters from Kenyon College for her work as a teacher, an intellectual and a human, she's been described as using the "power of literature to -- quite literally -- change the course of children's lives."
"She works with kids who have to struggle against every possible economic and social barrier and does things well beyond the call of duty," said Sergei Lobanov-Rostovsky, an English professor at Kenyon, in Gambier in Knox County.
Join us for an inspiring look at educating our children during these uncertain times!
Register for this meeting
- You will be sent instructions to log into Zoom for the meeting.
Read more...
April 24, 2020
May 18 Virtual Meeting-Living Legacy (aka Ethical Will) Why and How to Create Yours
Mary Greenlee, Maureen Severns, and Sharon Seiling presented a wonderful program on Monday, May 18.
They explained that the Living Legacy (Ethical Will) is an ancient document from the Judeo-Christian tradition. Discussion included how this traditional document has continued and changed over centuries. Today the ethical will has been described as "a gift of spiritual health left to the family." It has also been described as "gifts to the family that have no financial value." The purpose is to pass on wisdom and love to future generations.
There are many forms that the Living Legacy can take. There is no right or wrong way. The presentation included the rationale for creation of a Living Legacy. Various models and examples were presented by Mary, Maureen, and Sharon. We broke out into individual groups via zoom and shared things we have learned in life that we want to pass on or share.
Read more...
April 23, 2020
Special Interest and Transition Peer Group Activities – May 2020
SPECIAL INTEREST GROUPS
TRANSITION PEER GROUPS
Please contact Ann Fox at afox2069@gmail.com if you are interested in forming a new Transition Peer Group whether it is creating another geographical women's group, another Writers Group, or a group, which is completely different. TTN is committed to helping members form additional groups.
Just what is a Transition Peer Group (TPG)? It is a small group of 8-12 women, often geographically oriented, where members explore life-stage related issues. TPGs are unique and different from the above Special Interest Groups. TPGs are intended to be comfortable and trusting environments where the same members gather on a regular basis to discuss what's important to them, share in ways to live with vitality and wisdom, and provide support to each other. For many of our members, TPGs are like a home base, and for some, it is their initial experience with TTN.
Writers Group
The Writers Group is meeting once a month via Zoom.
Fact Gatherers Group
Contact Mary Greenlee at mbgreenlee@gmail.com for the next meeting date.
East Side Women's Group
Please contact Donna Owen at donnakowen@gmail.com for the next meeting date.
Wellness Group:
We are looking for ideas and suggestions for Wellness Group events. Please send any suggestions to RobertaKayne@gmail.com .

Sleuthin' Genies Genealogy Group:
Contact Karen Linnenkohl for more about the "Sleuthin' Genies" Genealogy Group at klinnenk@aol.com.
Movie Night is on break until further notice due to COVID-19. For more information contact Mary Hiland. mary.hiland@wowway.com
Welcome New Members!
If you are a new member and would like to introduce yourself through the Newsletter, please contact Mary Hiland at
mary.hiland@wowway.com
Read more...
April 20, 2020
Welcome New Member--Jane Tessier
Jane Tessier comes to us from Illinois by way of our founder, Pat Hurley.

Pat and Jane met at a "meet-up" group in Clintonville, and after attending three or four TTN meetings, Jane decided to join us.
Jane is a retired librarian, but now she volunteers with a reading program at an elementary school. She keeps busy with other activities such as hiking with another group of friends. Thanks to Pat for bringing us another active member.
Read more...
March 22, 2020
April 20 Virtual Meeting: You Said What?! Learning to Communicate Across Generations
These days, we're likely to interact with several other generations on a daily basis. Traditionalists (born before 1945) and Baby Boomers (1946-64) are in everyday contact with Gen X (1965 to 1980), Gen Y "Millennials" (1981 to 1995) and Gen Z (1996 to 2012).

The challenge is that each generation has its own history and speaks its own language. Add that to the influence of texting and social media, and we struggle at times to speak the same language.

Our April 20 speaker, communications expert Lillian Zarzar, facilitated an interactive program to help us communicate better across generational lines.

Lillian is the owner and founder of The Zarzar Group and consults with businesses and individuals on interpersonal communication and teaches communications courses as an adjunct professor at Ohio University.
Read more...
March 19, 2020
Care Circle--An Opportunity to Care
Our Central Ohio Chapter formed a Care Circle a few years ago. I would like to share some information about the Care Circle in case some of our newer members have not heard about it, and to remind all of our members about the Care Circle. The Care Circle shares their joys and concerns with each other. I

If there is an illness, a death in the family, or you want to share a joyous event, Jeannette McDonald will email the information to the members of the Care Circle.

She will send out an appropriate card for the occasion addressed from the members of the Care Circle.

Please let Jeannette know of you would like to become a member of the Care Circle. Call or send an email: (Jeannette.McDonald@att.net) or contact her by phone (614) 863-6265.
Read more...
March 18, 2020
A Thank You Note from our February Speaker--Amy Ryan Rued
A Thank You note and photograph from our February 17th presenter, Amy Ryan Rued
"I am grateful to TTN for helping to educate more people about Domestic Minor Sex Trafficking to save as many children as possible. With gratitude and love, Amy"
Read more...
March 17, 2020
Zoom Instructions
Instructions for using Zoom
If new to Zoom:
If you're new to Zoom, you can access your meeting by phone (audio only) or by computer, phone or Ipad via internet for video.

If using a devise and the internet, you'll need to either download an app called "Zoom Cloud Meetings" to your device or click on "Launch application" after you've clicked on the link you were sent to download and install the application to your computer.
How to use:
1. Before each meeting you will receive the call info which will include an internet link, password and phone number and you can choose to access via the methods in #2.
2. Choose your method:
You have the option of using you PC, Mac, Smartphone or Tablet.
----If using your PC or Mac, you will simply click the url that was sent to you in the call info. If it's your first time using Zoom, you'll need to click on "Launch application" to download and install the application to your computer.
If using your smartphone or tablet, access your app marketplace. Search for Zoom and download the app.

At the time of the meeting or call, DON'T open your Zoom account if you have one. Simply click on the link sent to you and enter the password. You'll be sent to a "waiting room" until the host starts the meeting.

If calling the phone number and entering the access code or meeting #, you won't have to download anything but this method is audio only.

Simply call the phone number you're given and enter the password and you'll be placed in the "waiting room" until the host starts the meeting.
3. Join the meeting and choose your audio:
As stated in #1, you will have received the details when you registered for the meeting, including the internet link, the phone #, the password and the meeting number. Follow the instructions in #2 above. When you're admitted to the meeting, you will see this image below if you are joining via the web: Simply click on the "Join Audio" button.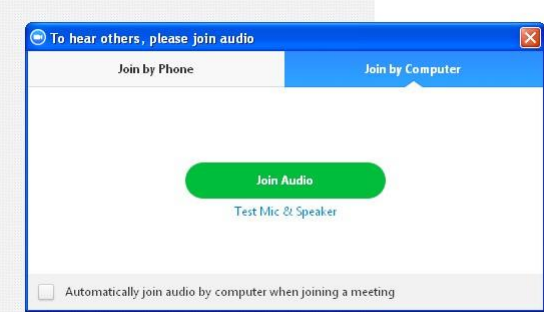 4. Adjust your audio and video:
It is helpful if you mute your audio when you are not speaking. Microphones tend to pick up lots of background noise. To mute your audio, click on the microphone icon and you'll see a diagonal line through it which means your microphone is now muted. (See the image below)
If you can't see yourself, "turn on" the video of you by clicking on the camera icon on the bottom left of your screen as long as it's not minimized. (See the image below)

You can "turn off" your audio or video the same way.

5. Ask a question
You can put your digital hand up by clicking on "Participants" at the bottom of your screen. Then find your name on the right and click on the "Raise Hand" button at the bottom right of your screen.

6. Chat

You can chat with the group by running your cursor over the bottom of the screen and clicking on the chat button. The chat will appear on the right side of your screen and you can chat with one participant or all participants.

For questions, email us here: centralohiochapter@thetransitionnetwork.org
Read more...
January 30, 2020
February Meeting--What Do You Think You Know About Child Sex Trafficking?
Increasingly, the heinous crime of child sex trafficking is in the news. However, the more awareness we can bring to this subject, the more likely it is that we can stop it. But how much do we really know about sex trafficking? How many misconceptions do we hold on to? Too often we hear, "This doesn't happen in my community!"
On February 17th Amy Ryan Rued spoke to Central Ohio TTN with an enlightening presentation on child sex trafficking. We learned
What sex trafficking is
What the signs of sex trafficking are
The importance of changing the culture
And most critical, what you can do about it.
Amy has been involved in raising awareness of child sex trafficking since 2011 and has been a trained volunteer with Shared Hope International for almost ten years. She is currently Regional Coordinator for the Ohio chapter. Shared Hope International's mission is to eradicate sex trafficking.
Read more...
January 29, 2020
TTN Central Ohio at Thrive Columbus 2020
Over 300 women all across Central Ohio gathered for the 2nd annual ThriveColumbus summit on Thursday, February 27th at the Fawcett Center.
This full day event featured a panel of experts who talked about Leaning into Leadership, and Pulitzer Prize winning journalist, Connie Schultz as the keynote speaker. There were also 15 afternoon roundtable discussions, including Central Ohio Chapter's own Susie Collins who led the discussion on "Reinventing Yourself After 50".
TTN had a table with a display of books from our local authors, and other books about transition topics. We handed out our brochures to many women who expressed an interest in TTN, as well as a flyer asking for recommendations on our "5 Over 50" honorees for our July 20th birthday celebration event.
Shown here at the table is Leslie Robinson, Pat Snyder, Carol Oswald, Tirtzah Sandor, and Susie Collins. (Not shown is Allison Forche who also attended the event.)
Shown below is TTN member Barb Speckler and Connie Schultz
Read more...
January 27, 2020
Mary Hiland ~ Presentation to the Adventure Summit
Mary Hiland, TTN member, will be presenting "If I Can Do This, I Can Do Anything," at the Adventure Summit at Wright State University on February 15th. She will be in excellent company as other speakers include Heather Anderson, who is the first female to complete the Triple Crown - Appalachian Trail, Pacific Crest Trail, and Continental
Divide Trail in one calendar year. Another impressive speaker will be Ryan Richardson, a nomadic climber focused on the development of new routes in wild places.
"And then there's me," Mary says, "an ordinary 75-year-old woman who loves to hike, bike, swim, and ski," although she is totally blind. For more information about this two-day summit, which is free, please check out
http://theadventuresummit.com/
.
Read more...
January 26, 2020
The Transition Network 20th Anniversary
Do you remember what you were doing in March 2000? You were probably wondering how you were going to get everything done, managed, scheduled, coordinated … like all the other busy women you knew. Christine Millen and Charlotte Frank – having recently left their high-powered jobs – were creating The Transition Network around a dining room table in New York City. Christine was leaving a career as a partner at Deloitte and Charlotte had been in charge of contracting for the Port Authority of New York and New Jersey.
Christine and Charlotte knew what they wanted to STOP doing but not what they wanted to START doing. To answer that all-important "what's next" question, they founded a dynamic community of women who support each other through change. Today, The Transition Network has grown from a small group of women to an organization of 3,000 members in 14 chapters coast to coast and others who participate online as National members.
As we celebrate our 20th anniversary this year, it's time to Honor our Past and Imagine our Future. Each of our chapters is planning a local celebration during 2020. And we're excited to announce that there will be a big national birthday celebration in New York on Monday, June 8. All members are invited to attend.
The New York City chapter is hosting our national celebration. Festivities will include a luncheon, afternoon program, and evening entertainment. Members who'd like to spend the weekend in New York can take part in gallery tours, sightseeing, and receptions with other TTN members from around the country.
What a wonderful way to kick off the next 20 years!! Stay tuned for more details on the celebrations in all chapters across the country. Happy Anniversary, TTN!
Read more...
December 28, 2019
Insight Out - A New Book by Member Mary Hiland
Mary Hiland has just released her second book, Insight Out: One Blind Woman's View of Her Life.
If you have ever wondered what it's like to be blind in a sighted world; if you've had questions about blindness but were afraid of being rude or inappropriate; if you are unsure about what to do around guide dogs; or if you know a person who is experiencing vision loss and would like to know how to help them in this traumatic time, this book is for you.
The book is a portrait of Mary's personality and is full of honesty, humor, and even photos of Mary's life as a skier,cyclist, hiker, public speaker, dancer, and handler of five Seeing Eye ® dogs.
Mary invites you to follow this link to the synopsis. It's available on Amazon both in paperback and e-book.
Read more...
December 13, 2019
Writers Group Publishes a Book
The TTN Central Ohio Writers have published a book of their writings that they read in November. Contact Donna Winters if you would like to purchase one.
Here is a link to view the book online:
Many thanks to Donna Winters for putting this lovely book together and to Roberta Kayne who helped coordinate it with Donna.
Read more...